Patient-Testimonials
Patient Testimonial - Shoulder Instability
Hey Doc,
Just wanted to send a quick update with how things are progressing with the elbow. One of the things I have noticed the most is the increase in the amount of stability I now have in my left arm. I always thought it was a shoulder instability but looks like it was the elbow all along. All the overhead movements in the gym that used to give me issues are feeling so much better. Before surgery I couldn't even really use my left arm by itself to push myself up from the ground or off the couch if I was laying down.
Some strength numbers that I've been able to hit so far since surgery:
Barbell Thruster - 205 lbs....I'm pretty sure this is the most I've ever been able to do
Push press - 205 lbs, my all time best was 215 which was about 7 years ago.
Clean & jerk - I am now able to comfortably perform the jerk portion of the lift with confidence, I was always so nervous prior to surgery when "punching out" the weight at full extension.
I know I've said this before but thank you for everything you've done for helping to fix the issue with my elbow. I hope you have a great rest of your week.
Thank you,
- Ryan
Patient Testimonial - Triceps Revision Reconstruction with Autograft
RT is a 37 year old male 1 year after autograft revision triceps reconstruction for a failed prior repair. As seen in the video the patient has been able to return to handstand pushups. Chronic triceps injures or failed prior repairs are best treated with a reconstruction. Incredible results are possible especially in a dedicated and motivated patient like RT. Fantastic job in rehab RT!!!!!
After Total Elbow Arthroplasty for Ostoearthritis
They just don't come any better than Dr. Eichinger!!! Several years a go I fell while at work, hit my elbow, put a band aid on it and went on with my day. I started having a lot of pain several months down the road, just figured it was bruised. The pain got progressively worse, I started losing all my strength in that arm and hand. I started Cortizone shots 7 years back and at first they were awesome, helped with the pain and inflammation. I got a few years of no pain, but was very disgusted by the constant pain and limited use of my arm and the fact that my arm had a very noticeable curve to it. My husband told me to "google" elbow surgeons in our area of North Myrtle Beach. I did and found Dr. Eichinger. Made the appointment with him, got all my x-rays from the Dr. who was giving me the shots and made our trip to Charleston. I was impressed by the friendliness of the staff, Dr Eichinger's P.A. as well as Dr. Eichinger. Several x-rays later, I had my answer. My elbow was full of arthritis, no cartilage at all and I was bone on bone. Dr. Eichinger showed us the x-rays and explained what we were looking at, he said my only course of action is an elbow replacement. I totally agreed I had hit the end of the road. They set my surgery date July 22, 2021!!!!!!! Spent 24 hours in the hospital and discharged the next day.

This was the absolute best thing I ever did. Dr. Eichinger is the absolute best Dr and human being I have ever interacted with. His bed side manor supersedes any other Ortho Dr. I made the best decision ever when I agreed to have the elbow replaced. I have 135 degrees of range of motion, the curvature of my arm is GONE, and I am PAIN FREE! I have read where some have travelled a good distance to see him, as have I. He is worth every mile. I finally after 15yrs have an elbow that allows me to do so much more. I trust Dr.Eichinger, he is a well-known surgeon, and he knows elbows. Thank you, Dr., Eichinger and staff for all that you have done for me. I appreciate you all!

Hello Dr. Eichinger! This message is just to say THANK YOU! You operated on my right shoulder on 11/1/17 for a labral tear and instability. At first, I was in a lot of pain and the PT was rough but you kept telling me that I would be glad I had the surgery once I was healed, and may even ask you to operate on my left shoulder! Well, I am very happy with my "new" right shoulder! It is so stable, something I have never experienced with my shoulders. I've been back in the gym lifting weights for several months now and can tell that my right shoulder is so much more stable and stronger than my left! I understand what you meant now. Although, I am in no hurry whatsoever to have my left shoulder operated on, when the time comes, I know who to go see. And the simple fact that you understood my EDS diagnosis and knowing just how much you needed to tighten my shoulder, is wonderful. Again, THANK YOU!

Able to get back to her passion of racing after recovering from surgery for her clavicle fracture. Impressive!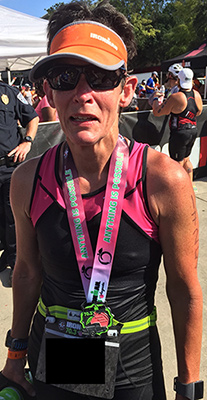 - T.Y.
Google Reviews
Healthgrades Reviews