Shoulder Arthroscopy
Arthroscopy is a very common procedure that allows surgeons to examine and repair the shoulder joints for many orthopaedic problems. This is a minimally invasive procedure involving small incisions of approximately ¼ inch, called portals. The arthroscope is a small, pencil sized instrument with a miniature video camera.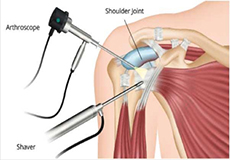 The arthroscope is introduced into the joint through the portals. A video monitor will show the inside of the joint and the surgeon's progress as the joint is examined and repaired. Repairs are made using very small surgical tools such as miniature scissors, shavers, knives, and other motorized and other motorized and non motorized instruments. Usually between 2 and 4 portals are used to perform arthroscopic surgery.
Shoulder arthroscopy may be recommended for painful conditions that do not respond to nonsurgical treatment(rest, physical therapy, medications, and injections). Common arthroscopic procedures include:
Tendonitis
Bursitis
Frozen Shoulder
Shoulder Impingement
Synovitis
Recurrent shoulder instability and/or dislocation
Labrum repair
Rotator cuff repair

Bone spur removal
Post-operation:Most arthroscopic procedures allow you to be discharged the same day. Immediate range of motionwith early recovery and function. The minimally invasiveapproach minimizes pain and discomfort, allowing for rapid recovery and return to sports and activity.